Loading…
Please Enter Command: Download Soldier Profiles
Please Enter Authorization: ********* ********* *****
Authorization Confirmed, Retrieving Files
Downloading...
Name: Kelio Sparks
Title/Role: XSDF Soldier, Mechtoid Trooper
Age: 7
DoB: May 9th, 2036
Sex: Ambiguous
Place of Birth: XSDF Warship "Arkbird"
Race/Nationality: Type 2 Sectoid
Height: 1.07 meters (3'6)
Weight: 29 kilograms (65 lbs)
Eye Color: Dull Orange-Brown
Appearance:
Kelio has a frail, pale body with skin tinted a vague violet-gray hue and other features characteristic of the purely cloned race known as Sectoids. What sets him apart from his average brethren is his four metal limbs, cybernetic appendages that are in place of organic ones. These can be detached to place him into a black Mechtoid suit with blue lines and XSDF markings. It is more utilitarian than the Ethereal design, namely in that it can use XSDF subsystems.
Personality:
Being a type two Sectoid, Kelio is rather empathic. Infinitely curious to the point of being obnoxious, he craves knowledge and doesn't mind company either. He has a strong conviction to serve the XSDF, having spent all of his life with them. He's often the one greeting newcomers, always interested in a new face (probably due to the fact that the members of his species look the same). He is prone to being a little fearful, though his mech suit does much to give him the confidence he'd otherwise lack.
Biography:
Kelio has known the XSDF all his life. Created in a laboratory on the capital ship of the human fleet, he was promptly given a choice about whether he wanted to serve as a scientist or do something else. Kelio didn't think twice about it, taking up the first offer immediately. Evaluating his skills since he was less of a clinical Sectoid and more of a varied one, he ended up becoming a weapons scientist. Studying the work of Penny Anderson, he ended up focusing on pulse in particular.
The Sectoid helped other scientists come up with a stable cannon system to implement into the experimental hover-tanks the XSDF was working on, but his role was not incredibly major. For all his intelligence, he lacked the talent that the other scientists had. His friends reassured him, but Kelio became somewhat disillusioned. Leaving the XSDF in 2038, he travelled to Progressus in hopes of being more valued there.
To an extent, he was, as the colony didn't have many weapons manufacturers to speak of, getting most of what they had through the XSDF or more.... Unscrupulous means. A lighthearted being like Kelio didn't exactly fit into that crowd, though. A deal with a particularly shady buyer went wrong, and he pulled a knife, slashing off Kelio's right hand and cutting into his right eye before running off. Terrified, the Sectoid left immediately after receiving basic treatment, winding up back on Earth.
After arriving on the blue planet in 2040, he had to use most of the money he had left to get a basic hand to replace his lost one, and lost his vision in the damaged eye. Not so useful anymore, Kelio sulked for the next three years, only making enough money to get by. It did occur to him that he could return to the XSDF, but he didn't feel confident enough to try, feeling that he was something of a failure to the prestigious organization. This changed when his old friend in the science divison called him up and asked him to come back. Not one to refuse the call, Kelio let himself be set up on Adamantem as an XSDF science ambassador.
For awhile it was good, Kelio's bright personality doing much to win over the scientists working in the Martian colony. Things didn't go exactly as planned on July 17th of 2043, though. Working on the electronic locks of a bank in Mediotierra, Kelio found himself a hostage in a heist. He expected to die to the unstable criminal's autolaser, but then a sheriff and a deputy broke in, the latter losing an arm to take down the outlaw. Kelio followed the medical vehicle to the hospital, and witnessed them create a cybernetic arm for the man.
Thanking the deputy and being inspired by his bravery, Kelio returned to the Arkbird with a request that he be made a MEC Trooper, figuring he could be a Mechtoid like the old cybernetic soldiers of the Ethereal armies. Although hesitant at first, the recruiters were convinced by his friend, who knew full well if Kelio wanted something, he wasn't going to back down. The Sectoid was given a T1 cybernetic eye and augmented for MEC Trooper duty, and began receiving training for combat. Although his resolve was sometimes an issue, his drill sergeant felt confident that the little Sectoid could be brave when he needed to be.
Cybernetic Enhancements: Tier 1 arms and legs, T1 cybernetic eye, and can be put into a mech suit
Psionic Abilities: (
Violet Psion
) -Very Weak-
Violet – Mind-Merge
Special Notes:
Str: 3
+2
Int: 7
Dex: 3
+2
Per: 5
+1
Con: 4
+2
Wil: 3
Has a customized drone that follows him around, dubbed "Pinyin" by its owner.
(+2 constitution from being a MEC Trooper with mechanical limbs outside the suit. Bonus exchanged for bonus garnered from mech suits when donned during regular battle. +1 will for will checks only when in the MEC suit)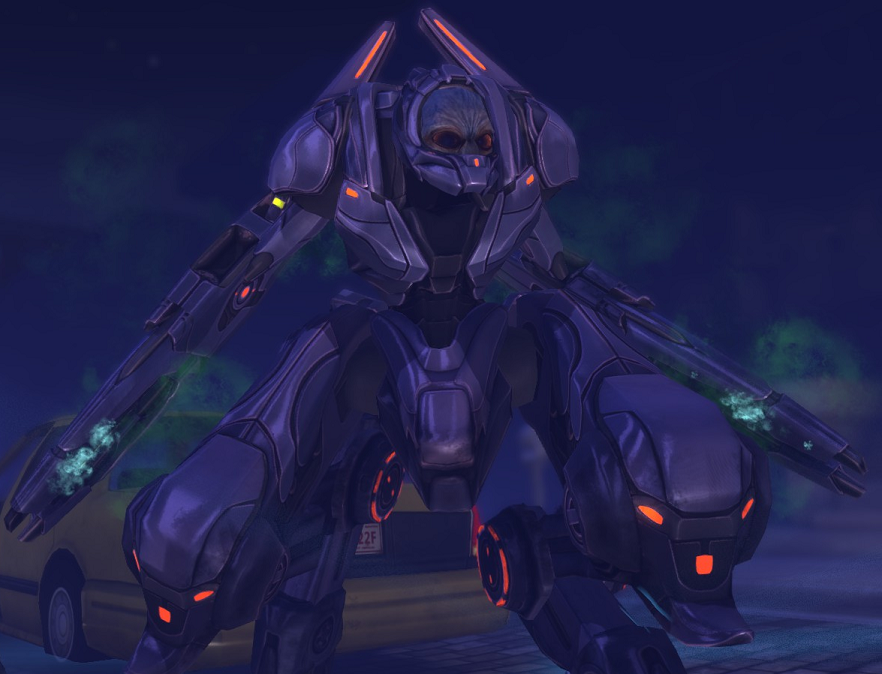 Last edited: