Sep 25, 2014
5,156
1,089
113
20
I had an idea to connect the lore of ChristopherOdd's roleplays and the new generation of XCOM roleplays in a small way. Ultimately, it doesn't affect the story that much (aside from minor tweaks I make to the Chris stories to make them fit, and any minor references that might be made in future stories to past ones that are 'technically' canon to the new stories if this idea works).
Gem
: To explain, let's look at some timelines with notes.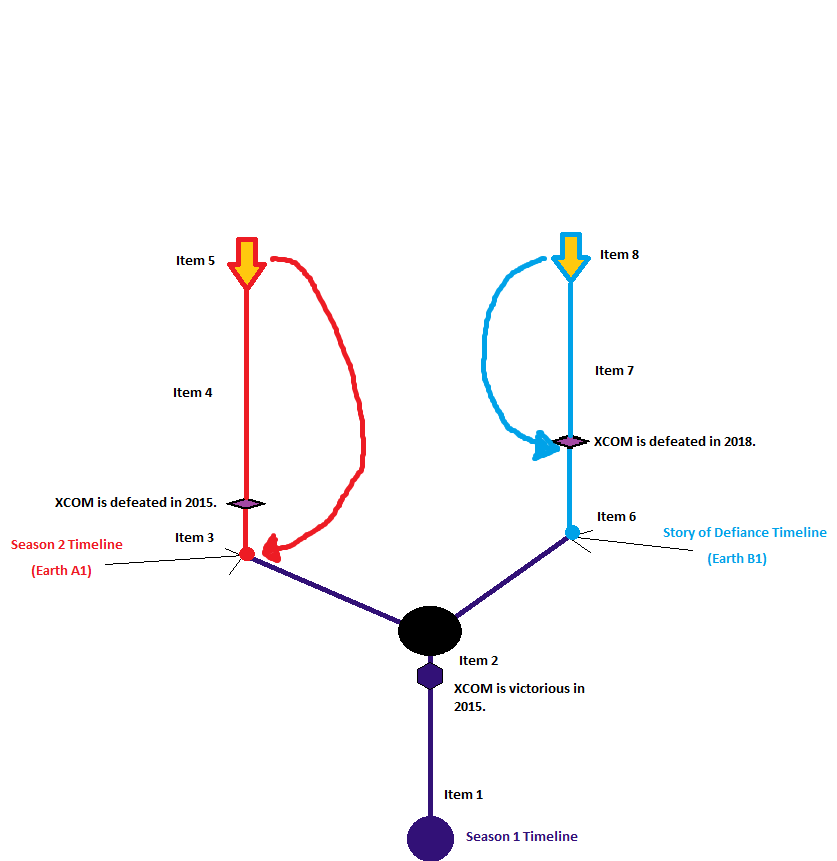 Item 1
– Season 1's universe of ChristopherOdd's roleplays. A world without the supernatural except for one thing: psionics. Humans are unaware of this, but among the stars a race known as the Ethereal Ones managed to learn this mysterious mental power. It gave them the strength to mentally dominate foes in a number of ways, and even warp reality itself. However, it came at the cost of their physical health. However, only about 5% of the population reached this higher level. The rest feared what their brethren had become and tried to wipe them out, but the psionic Ethereal Ones fought back, and wiped them out in a war that devastated their homeworld.
With nothing left for them on their home planet, the Ethereal Ones took to the stars, seeking a way to perfect themselves utterly in mind and body, and 'Ascend' to a higher level of existence. To this end, they brought other races they encountered into the fold, ever-seeking a way to perfect themselves. Finally, after mastering the mental aspect of ascendance, they found the corporal half of their goal in humanity. Such bodies could sustain their powerful minds, but their leader realized that it would take trials and tribulations to craft perfect hosts.
And thus the war began. An organization known as XCOM had been founded years prior under the fear that Earth may one day encounter hostile aliens, should they exist. XCOM fought back against the alien attacks as they intensified, rapidly becoming the spearhead of the human defense. Ultimately, they discovered psionics, and one in particular, Grelite, became extraordinarily powerful. Excited by this promising subject, but worried that XCOM had taken down one of the Ethereal Overseer craft, the ancient mothership came to Earth.
XCOM took the fight to the Temple Ship, battling their way to the bridge. The Uber Ethereal believed himself able to beat them back and use Grelite and the other promising human test subjects, but underestimated them. He was killed, and Grelite stopped the Temple Ship from exploding into a black hole, which would have destroyed Earth.
Item 2
– Barely surviving, Grelite was vulnerable, and the wavering mind of the Uber Ethereal used this, merging with the host and taking over the body as Grelite passed away. It had no more need for Earth, letting them revel in their victory, and merely lay adrift in the stars, basking in its power, and multiplying it exponentially. After a month it realized its foolishness: as an Ascended Being, it was TOO powerful. Its power consumed the universe as it was known, and destroyed it utterly in psionic entropy.
However, this was not the end of reality. Rather, all of that power lead to the births of two new universes, parallel to each other in space and time. Two separate stories emerged in the form of Earth A1 and Earth B1.
***​
Item 3
– ChristopherOdd Season 2. Earth A1 resembled the original timeline in many ways. Psionic abilities were not as dangerously powerful, however, even if ascendance would give birth to a being with the power of a pagan God, if not more. However, the supernatural could also be found, though it typically escaped the grasp of normal people. It gave birth to a Jiangshi like Ayame Kasagi. The Ethereal Ones origins were somewhat similar, save for the fact that they all become powerful in psionics, and many died as a result of body atrophy, those that survived taking to the stars and seeking out ways to bolster their ranks in search of races they could mold to perfection and use their DNA to perfect themselves.
XCOM was founded in the same manner as Season 1. And when the aliens came, they fought back admirably. Ayame Kasagi, along with Anna Stone, Richard Foulke, Aribeth Dusk, Sean Scruffson, Nukey, Trevor Conan, Presariov Astaeri, Alex Van Dam, and others fought to defend Earth…
Item 4
- But they were not strong enough to win the fight. Eventually, they were overwhelmed, and out of the names listed, only Anna Stone and Ayame Kasagi managed to endure. They formed a resistance out of the ashes as the Ethereals began to take over, seeming disappointed and thus not realizing the potential in the humans. Ultimately, they decided on wiping out humanity, but not before Commander Anna Stone managed to create a device that would reset time.
Item 5
– The Resistance committed to this endeavor, even if it meant the end of everything they knew. The device was activated as the Ethereals nearly finished wiping out all of mankind, and reset time to the very beginning of the universe!
***​
Item 6
– XCOM: Story of Defiance. Earth B1 was a very different world/timeline/universe from A1. The supernatural was practically nonexistent, although psionics came in the form of 6 different colors with different attributes and abilities. The Ethereals had damaged their homeworld in a nuclear war, but ultimately became psionically adept at the cost of their physical health, and begun to expand their empire to the stars in search of a way to repair their withered bodies. Humankind had yet to discover this power, but in history the occasional 'natural' had awakened and become legend. However, no one really believed in 2018 that such people had ever had special powers, like King Arthur's Pyro-Conjuring that he applied to his sword.
However, XCOM was founded when, about 50 years ago, an alien scout ship crashed into the Gobi Desert, sparking fear in world leaders even as they covered it up. Fifty years later, these fears proved true when the Ethereal Subjugation War began. Commander Morrigan O'Brien stepped up to the plate to combat this extraterrestrial threat, assisted by soldiers such as Atka Ipiktok, Modya Dragomirov, Ayame Kasagi (later on), Ammelia Cross, Mary Thomas, Desmond Walker, Eva Aegerter, Ashley Van Dam, Albert Foulke, Fay Anderson, Amelia "Emily" Fischer, and the mysterious Overseer. Interestingly, people from Earth A1 had counterparts in this world, although Ayame was no Jiangshi, Richard Foulke (Albert's brother) died at the onset of the war, and Anna Stone lived a fairly quiet life.
For a time it seemed as if XCOM could win as they fought back and ultimately defeated all seven of the Earthbound Ethereal Overseers. With the help of the Exalt family, which had been betrayed by Viktor Dorian but ultimately eradicated the organization known as EXALT that tarnished their name, things seemed to be looking up. Then, the Ethereal Homeworld of Aetherum was made uninhabitable by the actions of a Muton named Conquest, and the Temple Ship set a course for Earth with the survivors. An advance fleet targeted the known location of the XCOM base in Siberia, and annihilated it and most of everyone there.
Item 7
– Some survived, though. Atka Ipiktok became the commander of what remained of XCOM, leading survivors like Brigid O'Brien (Morrigan's daughter), the Ethereal Overseer Aergian, Sasha and Mikhail Dragomirov (the sons of Modya and Jessica Lockheart), and the heir to the Exalt family name, Vindicta Exalt.
Item 8
- They managed a desperate bid in a world that the Ethereals had made their own: to spite the 'Decelsions' and give their world a chance at a future, they send a message back in time to warn XCOM of the bombardment!